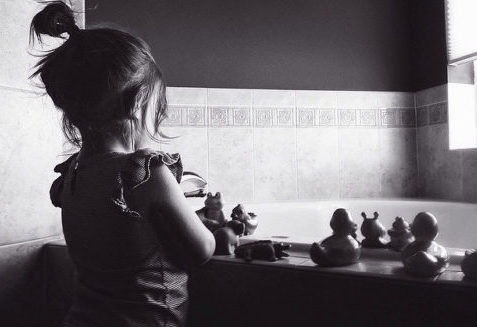 11 Apr

The Mess of the Messy Bun

The question I am pondering . . .

Is the messy bun me?

Now, this may seem a silly question or even confusing if you've never heard of such a thing. The "messy bun" is a hairstyle in which you put your hair up in a high teased mess of a bun and call it done. It sounds easy in theory but, in trying it out, I have found it's not as easy as it seems. Sometimes it's too HIGH. Sometimes I get it too low. Sometimes the mess to bun ratio, no matter how much I pray, I can't get right. But . . . every now and then I do, and I look in the mirror and kind of like it.

Even when the ration turns out right, the messy bun still has me asking, is this really me? For those of you that have never struggled with your sexuality or identity, this probably seems like such a silly thing. For others of you, you get it. In trying to figure out who you are, while navigating the ever-so-confusing waters of femininity, MASCULINITY, and sexuality, you're tempted to throw the oars overboard and just GIVE UP. The waves of culture and confusion are just too tough.

Like I've done previously time and time again, I am tempted to settle for what is easy, is safe, and most of all . . . what feels good. But, the messy bun doesn't feel good. It makes me feel inadequate, vulnerable, and different. It's proof to my inner 8 year old that once again, as a girl, I am not feminine ENOUGH.

Luckily, there is an older, wiser woman that knows having a certain look, talent or gift, or the latest clanky shoe outfit doesn't have to define me. This wiser woman also knows it's okay to try new things, including NEW EXPRESSIONS of my femininity. Yes, this week's exploration just happens to be, what feels to me, the very feminine "pretty-girls-wear-them" messy bun.

Is it me though?

Funny how a hairstyle or trying to find something to wear can still challenge me to the CORE of my identity. I hate to admit that but then, why not? Why do we spend so much time PRETENDING? Figuring out who we are isn't hard, right?

As a Christ-follower, it is.

I know who I feel I am, but feelings lie. They shift. They change. They can be felt and expressed, but they can't be trusted as TRUTH anyway. After all, how many times have I not felt feminine enough or like a girl, but still was?

Three or four attempts at a messy bun and it still failing makes me feel like I am not enough. Thankfully, I have traveled enough road to know the toughest battle of my day doesn't have to be with the voice I hear in my head. That voice is a LIAR. As God continues to take me from one degree of glory to another (2 Corinthians 3:18), it's okay if some days I try new things and feel stuck in the middle.

I am not who I was and still not yet who I am FULLY going to be. I'm in process. And yes, that is okay even if sometimes it is hard, uncomfortable, or scares me. The only way I can get stuck is if I am unwilling to put off the old me.

"You were taught, with regard to your former way of life, to put off your old self, which is being corrupted by its deceitful desires; to be made new in the attitude of your minds; and to put on the new self, created to be like God in true righteousness and holiness" (Ephesians 4:22-24).

Is wearing a messy bun a part of the new me? Is it me trying to be a worldly version of femininity?  At this point I don't know. And . . . that's okay. I can keep trying it on and listening. Listening, not to my heart, which is deceitful above all things (Jeremiah 17:9), but to HIS.

His heart, His words, and His opinion I can TRUST.

So, how will I wear my hair today? Wavy, down, straight, ponytail, messy bun? I don't know but we shall see. The joy is that I get to break out of yesterday's mold into the newer, better ME.